Who will it be?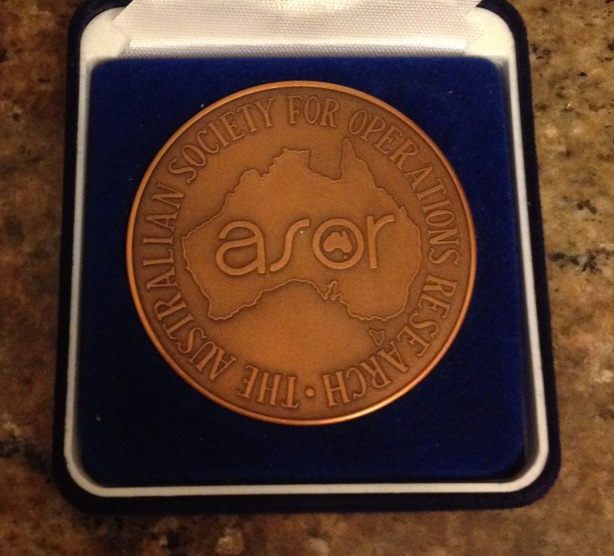 If you are attending the ASOR/MODSIM/DORS 2015 conference, come to Central Room C at 2:50pm on Monday 30th November to discover the recipients of the Ren Potts Medal and ASOR Rising Star Award for 2015, and hear presentations from them.
The final program for ASOR/MODSIM/DORS 2015 can be found at the MODSIM 2015 website.
---
About the Australian Society for Operations Research
The Australian Society For Operations Research (ASOR) was founded on 1st January, 1972 and has about 200 members nationwide. ASOR, like other national OR societies, is affiliated to the International Federation of Operational Research Societies (IFORS).
The Society's objectives are to:
Foster the development of the science of Operations Research.
Foster the application of Operations Research wherever appropriate.
Foster the widest possible exchange of information and ideas on Operations Research and related subjects.
Define standards of knowledge in and to further the study of Operations Research.
ASOR serves the professional needs of OR analysts, managers, students and educators by publishing a National Bulletin and News, and running events including Conferences and Seminars. We have annual awards for achievement (the ASOR Ren Potts Medal) and up-and-coming people in OR (the ASOR Rising Star Award).
The society serves as a focal point for operations researchers to communicate with each other and to reach out to other professional societies. We run a mailing list for broadcasting information, a Youtube Channel for recorded seminars and tutorials, and a LinkedIn Group for discussions and networking. We're a Membership-based organisation, welcoming anyone with an interest in the area.